Announcing "RECYCLART"
Keep Little Rock Beautiful and Goodwill Industries of Arkansas are sponsoring a sculpture contest using recycled materials and offering a $500.00 prize for the winning entry. Information concerning the competition and an application form are on the links below. Everyone is eligible and there is no entry cost, only an application. If you have any questions concerning the competition please contact Tim Heiple at 501-707-0115 or tim@hwarch.com.
Information Sheet Recyclartinfo (1)
Application Recyclartapp
RecyclART Fundraiser Event and Voting
Join Keep Little Rock Beautiful and Goodwill Industries of Arkansas
November 12, 2015, 5:30 – 8:00 p.m.
Studio Main, 1423 S. Main Street, Downtown Little Rock
Guests will vote on the winning sculpture created by
artists from materials donated by Goodwill.
Join us for food, drinks and fun, while also raising money
for the KLRB school recycling grant program.
Tickets available at the door or from KLRB Board Members
Tickets are $10
In celebration of America Recycles Day.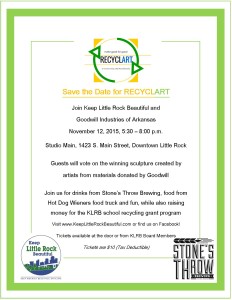 <
School Recycling Grants – New Round of Grants Coming Soon (Posted August 2015)
A goal of KLRB is to increase recycling in our community. A main thrust of our recycling committee is to fund recycling grants for Little Rock Elementary Schools, which are to be used to inform, encourage and support school recycling programs,
To that point, KLRB is offering a limited number of one time grants of $300 to schools for assistance and promotion of their in-school recycling programs.
The funds can be used to purchase equipment (bins, carts, containers, etc.) to help implement and enhance the school's recycling program. Educational materials related to recycling can also be purchased (books, demonstration materials,)
The KLRB grant program will be a competitive process.  To receive a copy of the application e-mail info@klrb.org with School Recycling Grant in the subject line.
Curbside Pickup of Recyclables
Our Single Stream Service is available to single family homes in Little Rock. If you do not have a curbside bin call 311 and request that a bin be delivered to your home. It usually takes about a week to get the bin to you.
This link will take you to a map and 2014 Recycling Collection Calendar – Map & Calendar
The Following Materials Can Be Recycled
Plastic: Plastic bottles #1-5 and #7 (including tubs, lids and caps); Mixed rigid plastic (ie. laundry baskets, large plastic tubs, potted plant containers.)
Please NO: Plastic bags or #6 styrofoam.
Paper: Newspaper with inserts; corrugated cardboard boxes, flattened; paperboard boxes (i.e. cereal, cracker boxes,) no wax lining, flattened; brown paper grocery bags, junk mail, magazines, phone books, soft paperback books, catalogues, non-foil gift wrap, greeting cards.
Cans: Aluminum cans; steel beverage & food containers, empty aerosol cans.
Metals: Old metal pots and pans, metal cookware (no glass tops).
Glass: Clear, green or brown food and beverage containers.
Aseptic containers: Drink boxes, gable top boxes (juice and soup stock).
Note: Please rinse food residue from all containers.
Find more at this City of Little Rock Recycling on a Roll Website. Also, check the site for information on the Recyclebank Program where you can earn rewards for recycling!
Green Station Collections
Accepted materials at Green Stations:
Used oil, gasoline, and antifreeze
Fluorescent bulbs (4', 8' & 

CFL

's)
A limit of FIVE (5) items per visit of the items listed below.
Computers
Copiers
DVD players
Paper shredders
Printers
Televisions
VCRs
Phones
Stereos
Radios
Fax machines
Microwave ovens
Directions:
10001 Kanis Rd. in the back parking lot of the Little Rock Police Substation at the corner of Jr. Deputy and Kanis. 
Open Thursdays (7:00 am to 5:30 pm) and the 1st Saturday of the month (7:00 am to noon). Closed on Thanksgiving.
These Green Stations are operated by the Regional Recycling and Waste Reduction District operates these sites. Materials collected are subject to change. You may want to call 501- 340-8787 or visit their web site for updates.
Regional Recycling and Waste Reduction District
More information is available at Regional Recycling